Vehicle Wrapping for Every Ride
Vinyl wrapping is the perfect design solution for restyling your vehicle without putting a large dent in your bank account. The experienced specialists at Millennium Window Films can help you decide what type of wrap fits your vehicle best, whether you're having your jet ski wrapped or using vinyl design to advertise your business.
Additionally, we are San Antonio's experts in taillight smoking. MWF can help you get the perfect look for any of your vehicles.
What Are Vinyl Car Wraps and Vinyl Wrapping?
Also known as "car wrapping," vinyl wrapping involves applying a highly sticky, colored film to the surface of your car or truck. Vinyl car wraps come in a multitude of colors, along with three luster types:
Matte

Metallic

Shiny/Glossy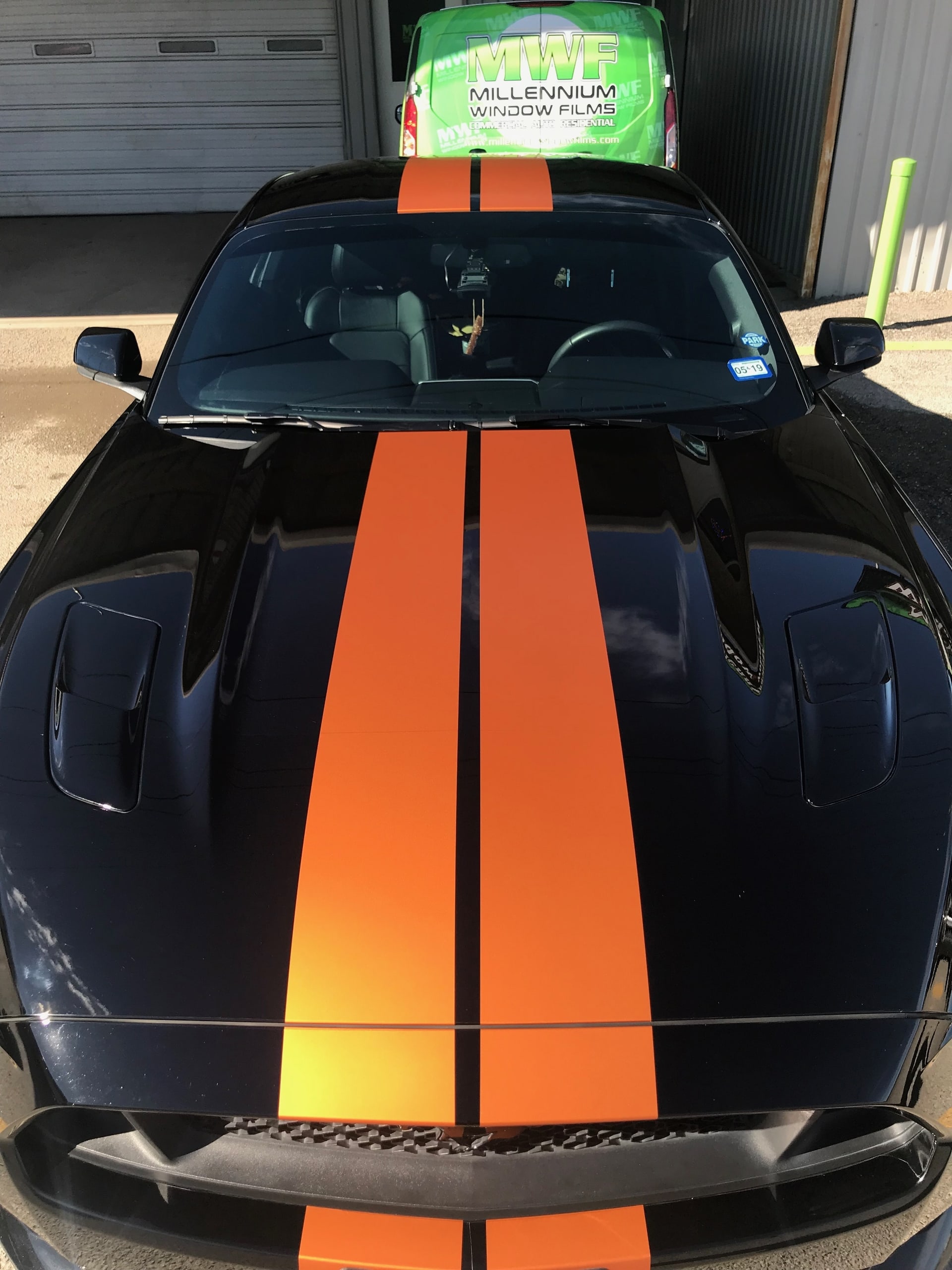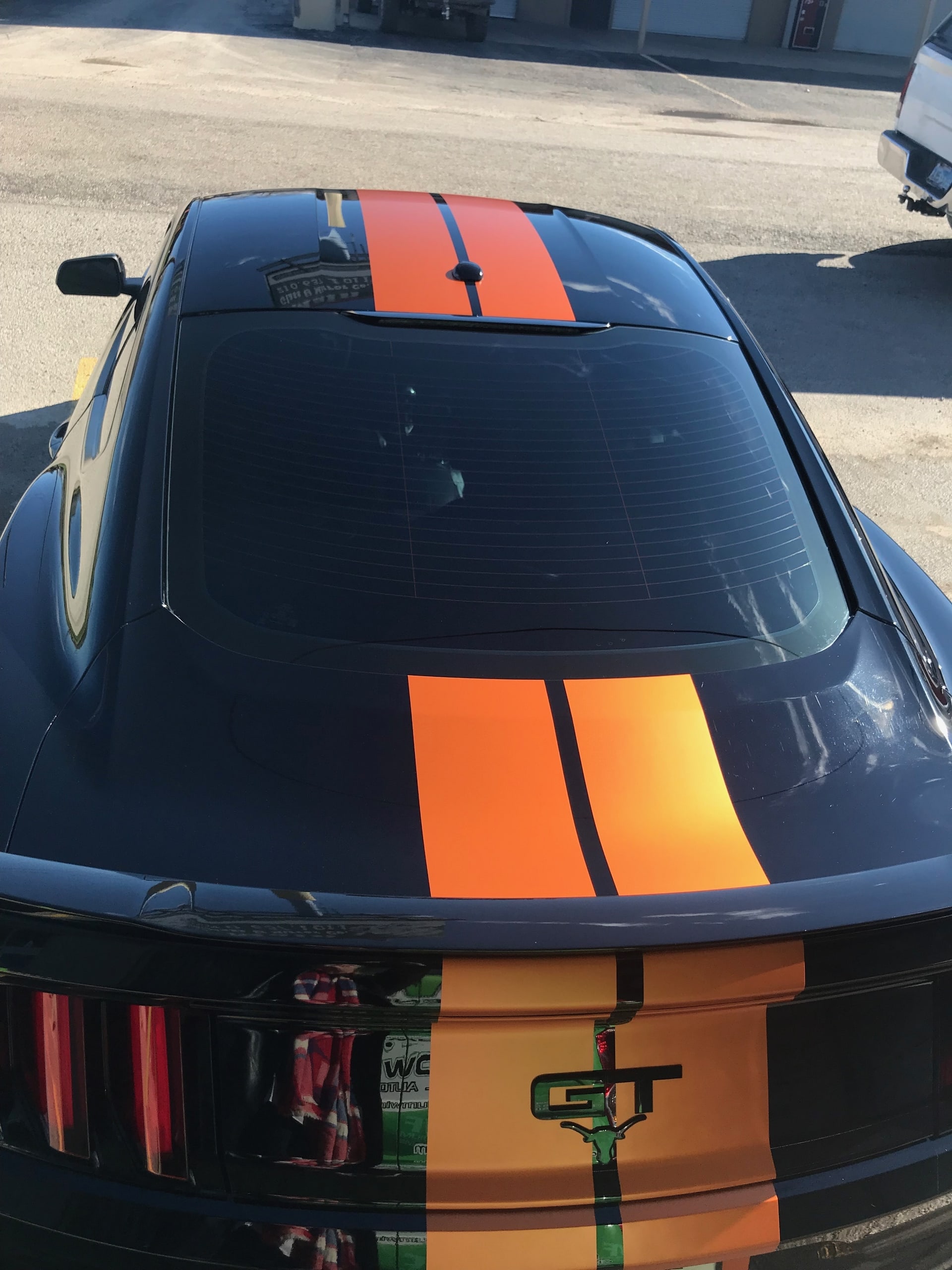 How & Where Are Vinyl Car Wraps Applied?
Car wrapping films are fitted and applied to the vehicle's individual sections or "panels." If you've ever seen a car or truck decorated with racing stripes, you're familiar with vinyl car wrapping. Vinyl car wraps are hardly limited to vinyl pinstriping, though--not by a long shot. In addition to racing stripes, at Millennium Window Films, we regularly do vinyl car wrapping on:
Spoilers
Bumpers
Hoods
Roofs
Whole Vehicle Vinyl Wrapping
At Millennium, we also do whole-vehicle wraps, which involve applying vinyl film to each of the vehicle's panels. Owners are sometimes amazed at how completely a vehicle wrap--even a one--panel job-can change the vehicle's look and style; the finished result--especially with a whole-vehicle or multi-panel wrap--can completely transform your vehicle's look.
Vinyl & Lettering Decal
Car wrapping also includes vinyl lettering decal work, which we regularly do at Millennium Window Films. In both a stylistic and a literal sense, owners can send a real message with this type of vinyl work. If you're interested in vinyl wrapping for your car or truck, be sure to ask about our vinyl and lettering decal options.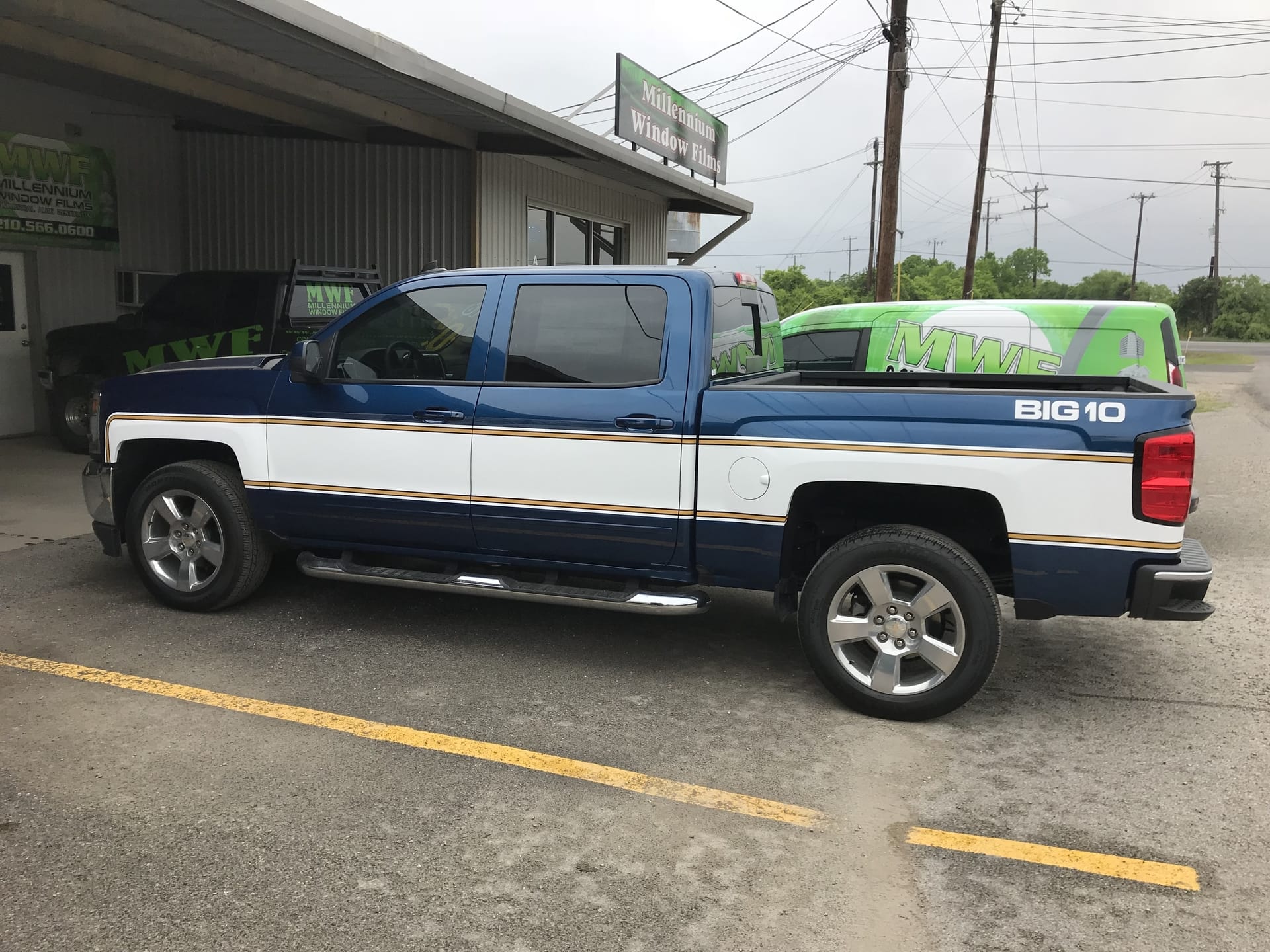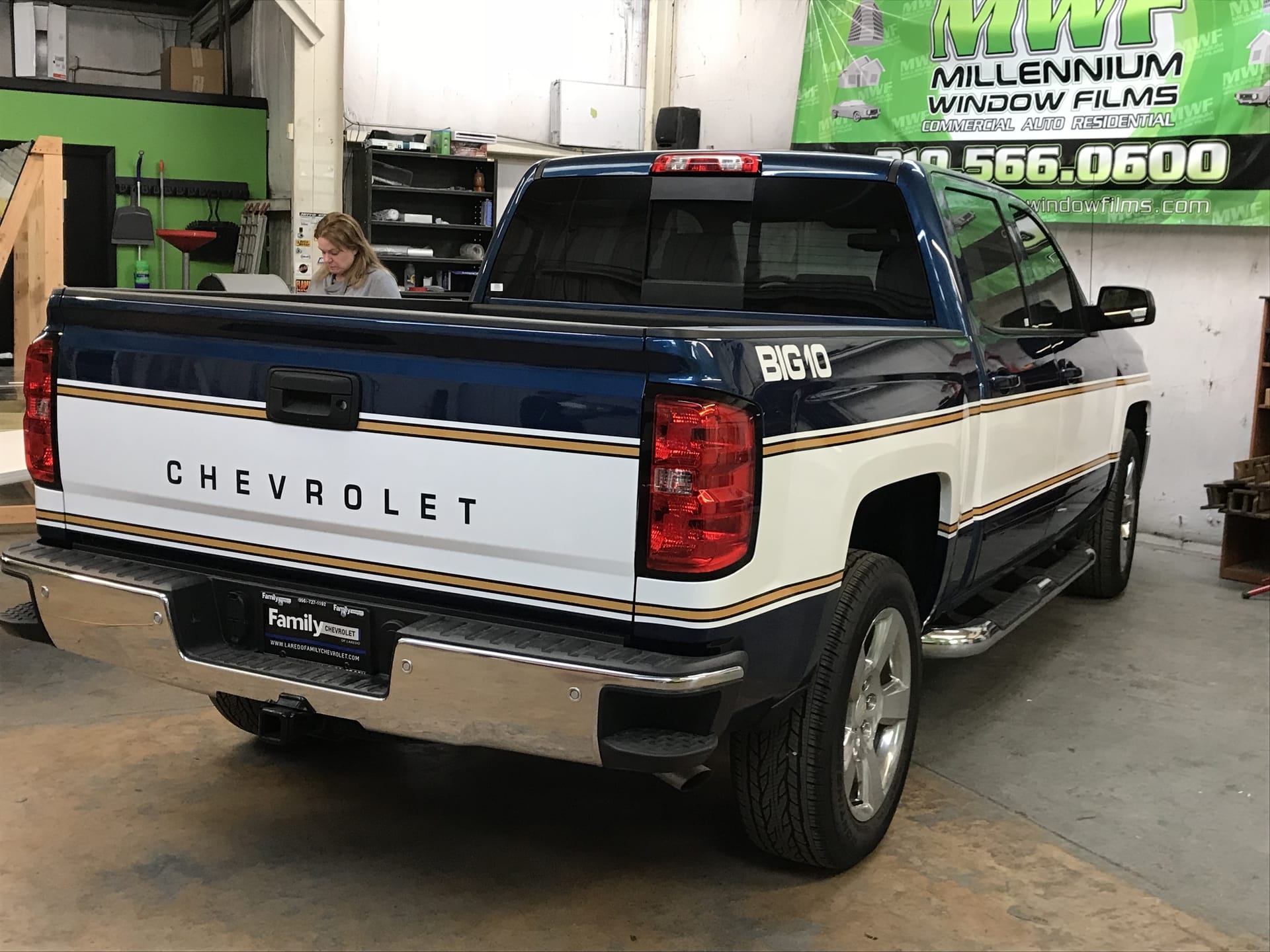 A 2018 Chevy Silverado converted to look like a mid 70's Retro Big 10. with our vinyl graphics.
Contact Us for Vinyl Car Wrapping in San Antonio
Whatever style or color you favor for your vehicle, at Millennium Window Films, we guarantee a top-notch application. If you're considering lettering for your vehicle or vinyl car wrapping in San Antonio, call Millennium Window Films at 210-566-0600 to schedule an appointment or learn more. You can also complete the form on our contact page.
Want something extra to complete your vehicle's look? Consider window tinting! In addition to car vinyl wrap, we also have automotive tinting in San Antonio. Click here for more information on window tinting for your vehicle.
The Benefits of Vinyl Wrapping
As mentioned above, vinyl wrapping can completely transform the look and style of your car or truck. However, vinyl wrapping also provides the more-tangible added protection for your vehicle's paint job from chips, scuffs, bug splatters, bird droppings, minor abrasions, and UV rays.
Some vehicle owners are tempted to try a "do-it-yourself" car wrapping installation. At Millennium Window Films, we recommend against this approach, as vinyl wrapping requires extreme precision and know-how. Our expert installers have years of experience in car wrapping and vinyl lettering. We'll get your vinyl wrapping job done without bubbling or creasing—guaranteed. You choose the colors, shine level, and style, and we'll do the rest. To learn more about our vinyl wrapping products and services, contact Millennium Window Films today!