rProtecting Your Investment with Millennium Window Films
As a vehicle owner, you want to keep your automobile well-maintained and in good working condition. You service the engine, maintain the tires and alignment, and ensure everything's looking great. With Millennium Window Films, you can keep your vehicle's paint fresh with paint protection films. This transparent film is applied to the outer surface of the vehicle to protect it from minor damage. Our quality films are a great solution to maintaining your vehicle's aesthetic and longevity.
SunTek Paint Protection Films
Protecting your vehicle's paint from damage starts with the best installers using the industry's highest quality products. With a variety of options on the market, MWF only uses SunTek paint protection films (PPF) because they're designed and manufactured with the highest standards of quality and durability in the business.
Engineered with the science and know-how of over six decades in the protective film industry, our SunTek PPFs combine self-healing technology with TruCut software to ensure the ideal fit and the strongest protection. For additional durability, the Ultra line includes the HydroResist Top Coat, which increases stain resistance and limits surface accumulation of water and dirt. Honored nationwide, SunTek backs their films with the best warranty in the business.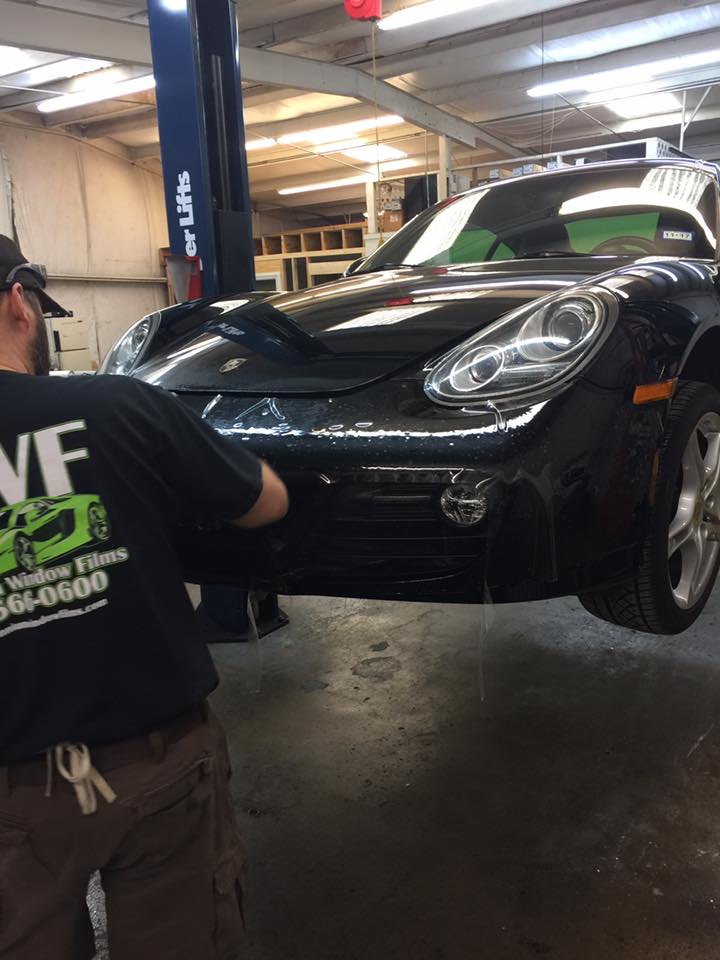 Millennium Window Films Protects Your Automobiles
Your vehicle faces a lot of stressors while outside. From the severe Texas heat to rock chips and scuffs, your car or truck's paint can really show the impact of the elements if it's not adequately protected. Our experienced specialists can help protect your vehicle's exterior with the installation of paint protection film.
Whether you just purchased a new car or you'd like to protect your current one, Millennium Window Film's PPF is an excellent way to safeguard against minor damage due to wear and tear, bug splatters, bird droppings, and other small abrasions. Paint protection film is a sound investment toward keeping your vehicle in good shape.
Paint Protection for Your Specialty Vehicles
Installing paint protection film isn't only for your daily use car or truck; it can also be applied to most specialty vehicles. MWF's expert professionals install PPF on Classic Cars, ATVs, Side-by-Sides, Golf Carts, RVs, and Motorcycles. Keeping these vehicles protected helps elongate their life, allowing for your continued enjoyment.
Headlight Restoration Services in San Antonio
If your automobile's headlights are cloudy, Millennium Window Films can treat them with our headlight restoration process. Our treatment will remove haze and corrosion, restoring the clarity and shine of your headlights. The MWF Headlight Restoration process can be completed before installing Paint Protection Film for the ultimate upgrade to your vehicle.
Additional Vehicle Enhancements
If you're looking to add even more protection and beauty to your vehicle, consider some of our other services, such as:
Automotive Tinting: Shield yourself from the bright and hot San Antonio sun by tinting your vehicle's windows. We only use the best automotive tint available, and our car tinting specialists are skilled and experienced to deliver smooth, flawless results.
Vinyl Car Wraps: Our high-quality vinyl car and truck wraps protect the finish and can change the look of your vehicle quickly and for much less than a paint job.
Auto Accessories: Millennium Window Films offers a wide selection of car and truck accessories. Check with us to see if we can help you get what you need for your vehicle.
Contact Us for Paint Protection Film in San Antonio
If you're thinking about installing paint protection film in San Antonio on your vehicle, call Millennium Window Films at 210-566-0600 to schedule an appointment to learn more. You can also complete the form on our contact page.